Ask the community: presence detection at home
reading time: 4 minutes
Presence detection is a key component for many smart homes out there: after all, we don't need to turn on the lights if nobody is home. But somehow, none of the options really seemed that great to me. It felt like every way that was offered was missing something or didn't work reliably enough. This is why I decided to tackle the topic in my master thesis, by looking at presence detection technologies for room level home automation.
Knowing where humans are is quite a common topic in the commercial world. Shops, big venues, warehouses, hospitals, offices, … - in all of those areas you will find companies using presence detection, either to track individual people moving through an area or the behavior of a big crowd. Amazon even built a store that allows you to check out without any cashier by using presence detection (and other smart tech of course)!
But what about at home? What do the smart home aficionados of today use to run automations? To learn more about this I conducted a survey, which I posted on various home automation subreddits and community forums. Overall 551 people participated.
The first thing it confirmed: presence detection is a hot topic! 86.6% of people stated that they already use some form of presence detection at home. Out of the rest 6.8% said that they do not plan on implementing it in the future, corresponding to only 0.9% of all participants not being interested in the topic. The reasons for the disinterest were stated to be a lack of good use cases and privacy concerns.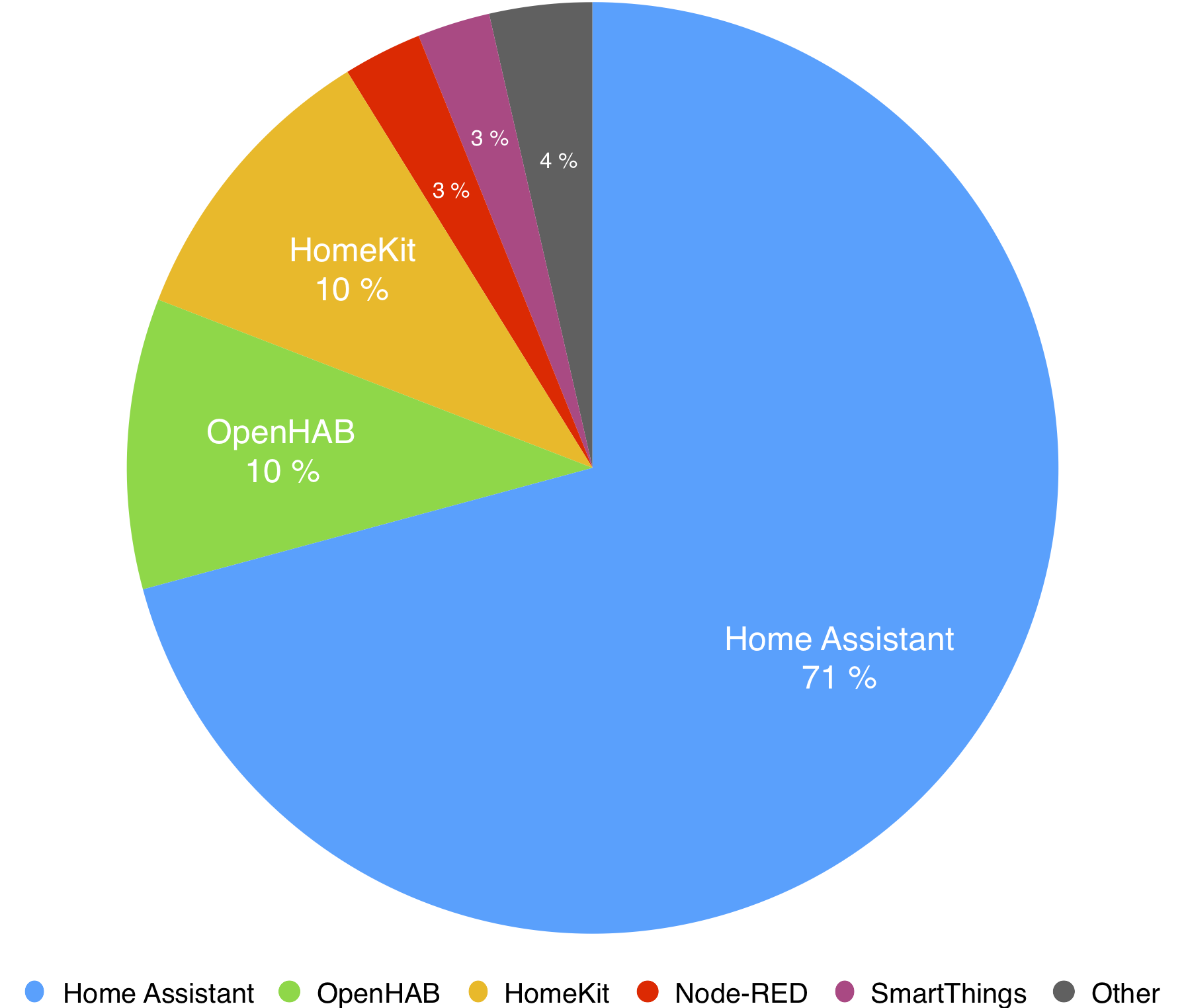 Home Assistant has turned out to be the most popular home automation software in the survey, followed by OpenHAB and HomeKit. It should be noted that this data suffers from a slight bias, as the survey post achieved a higher reach in some software specific communities. Additionally the target group was specifically aimed at more advanced smart home users, which might have caused the numbers for commercial platforms to be lower.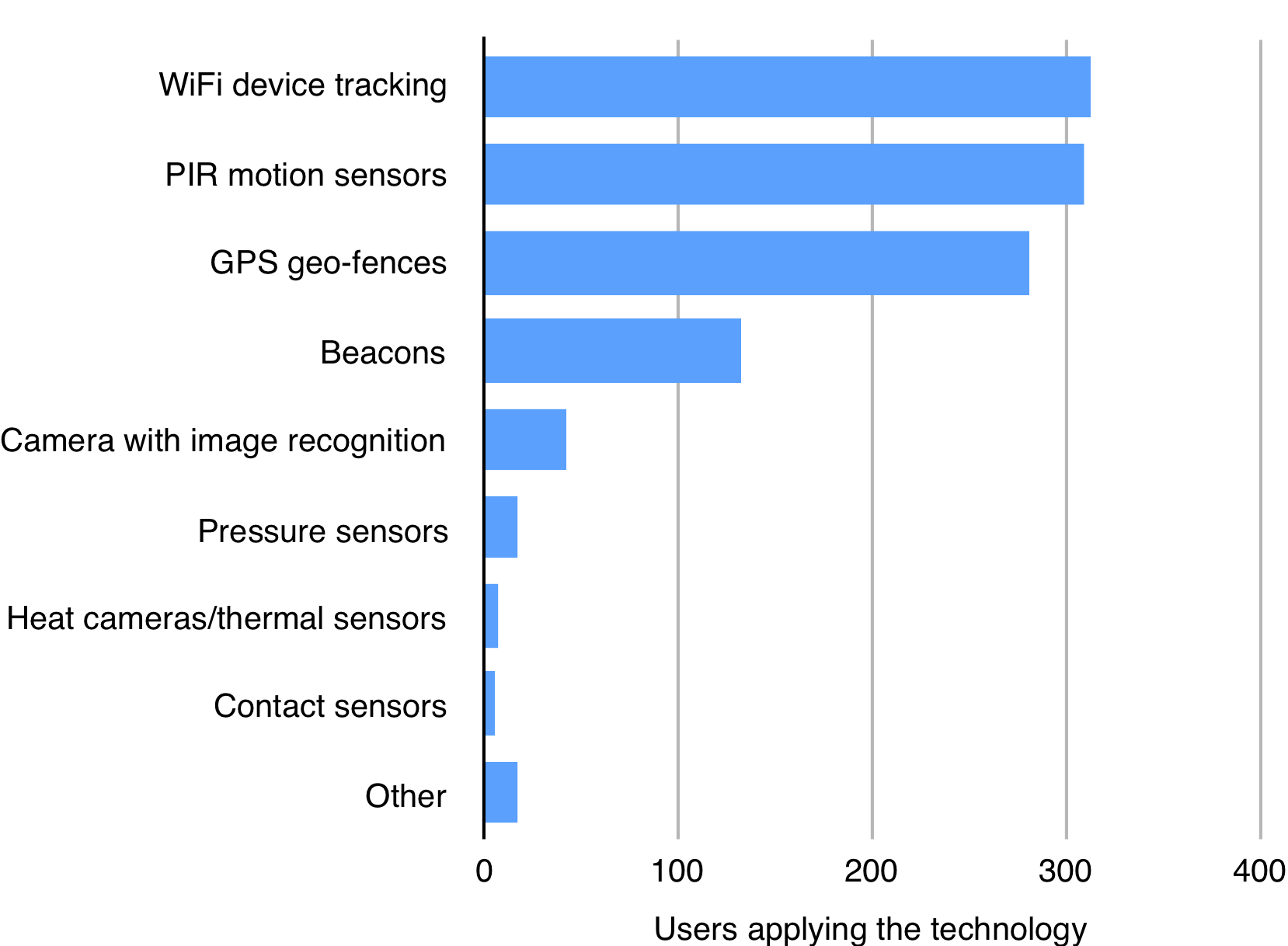 The techniques used turned out to be quite varied, although there are clear front runners. WiFi, PIR and GPS were the most used technologies with more than double the amount of users than the other categories. Interestingly not only Bluetooth beacons were used, but also ZigBee and Z-Wave ones. Bluetooth did still have a big lead for this use case though. The Other category summarizes all technologies with less than 5 users in the survey for brevity. This includes radar sensors, tomographic sensors, capacitive sensors, infrared light barriers, strain gauges and entertainment device activity.

The data also clearly shows that users tend to utilize multiple presence detection technologies together. On average 2.35 different methods are used in each smart home of the participants. As shown in the table excerpt there are no specific combinations that are preferred, as the rankings are similar to the overall popularity.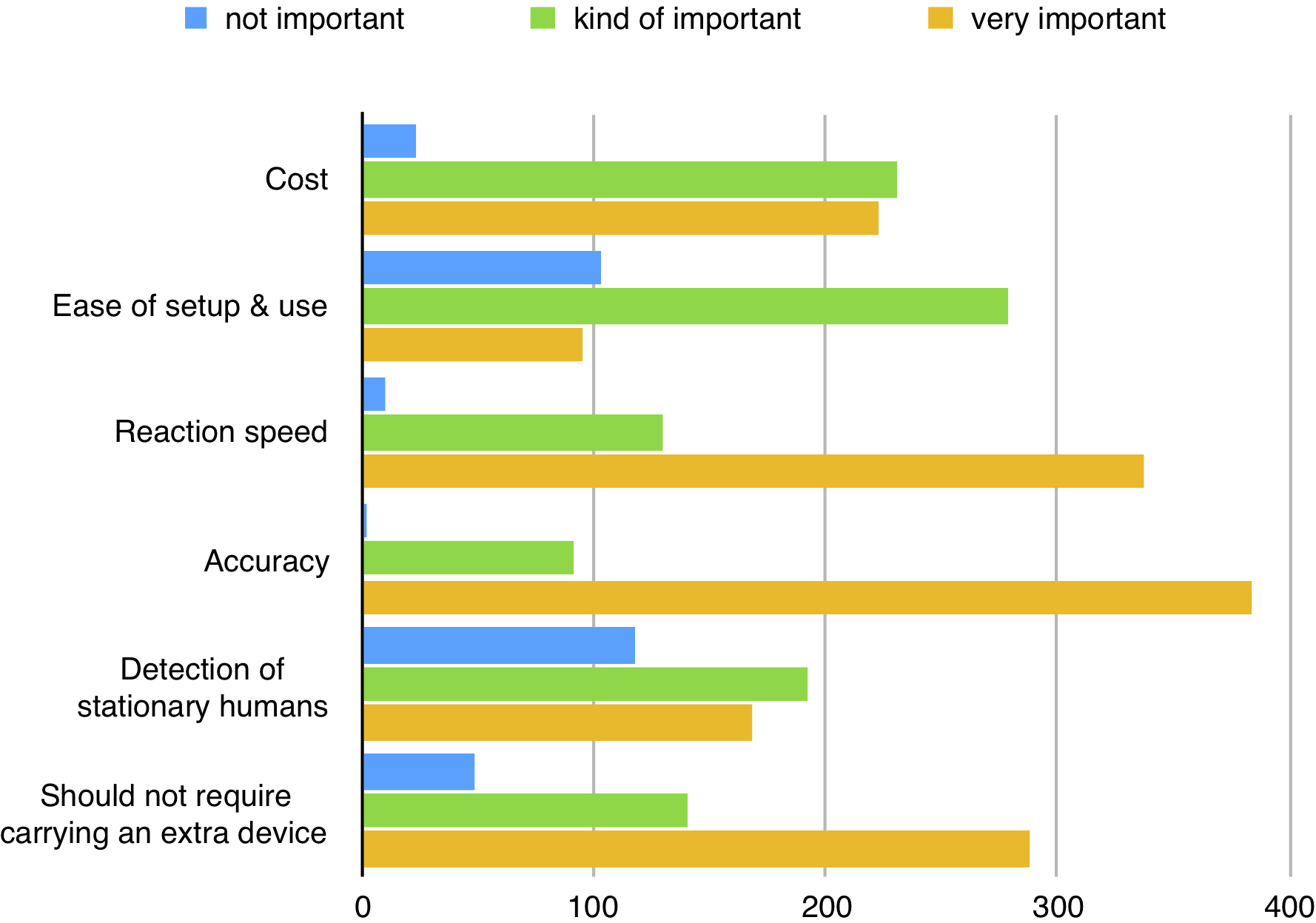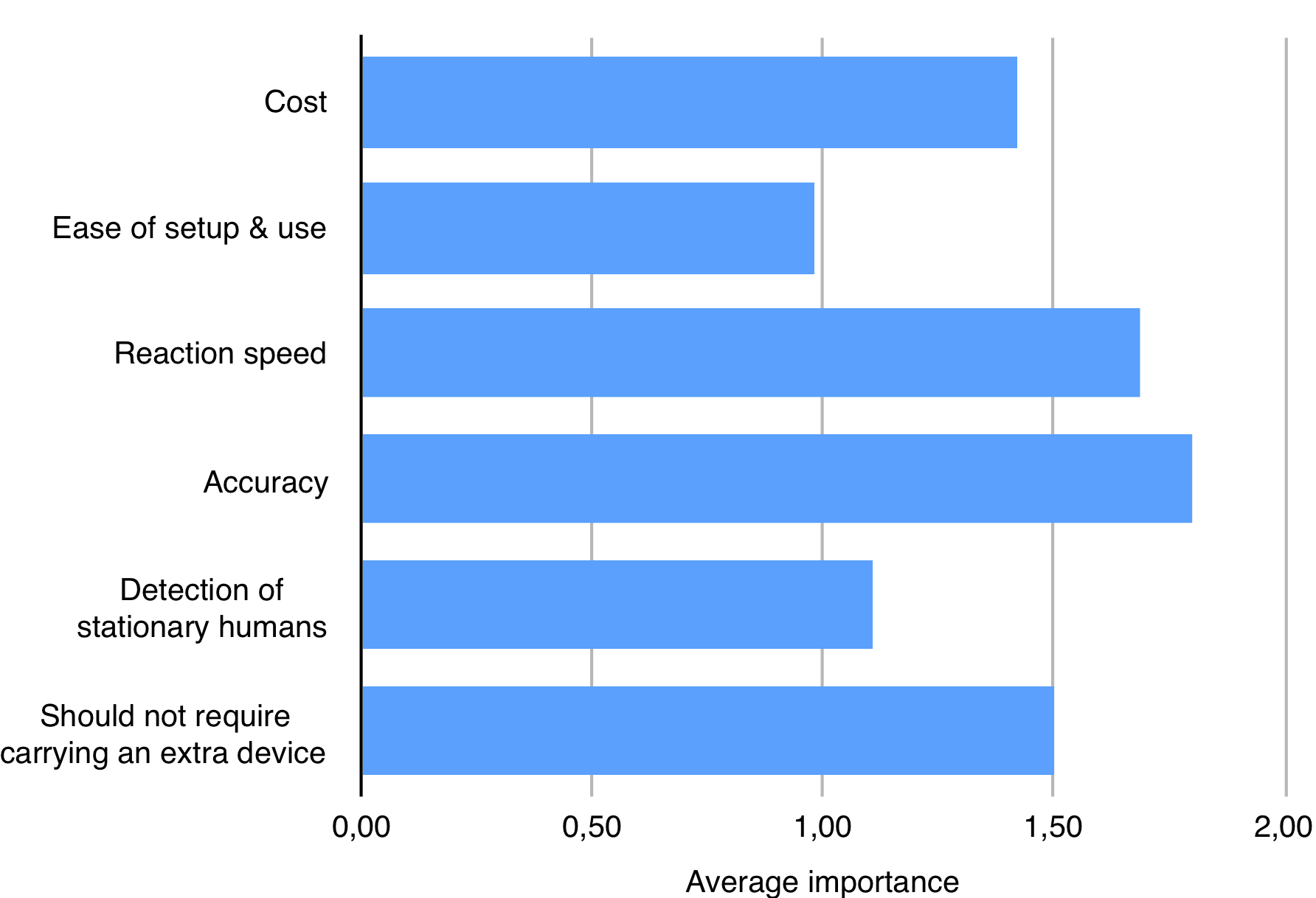 Almost all participants rated accuracy and reaction speed at least as kind of important when picking a presence detection technology. The other factors received more varied ratings. Detection of stationary humans and ease of setup both had notable amounts of users who do not considers them as important, on average those factors still remain relevant however. The quantified averages were calculated by rating not important as 0, kind of important as 1 and very important as 2.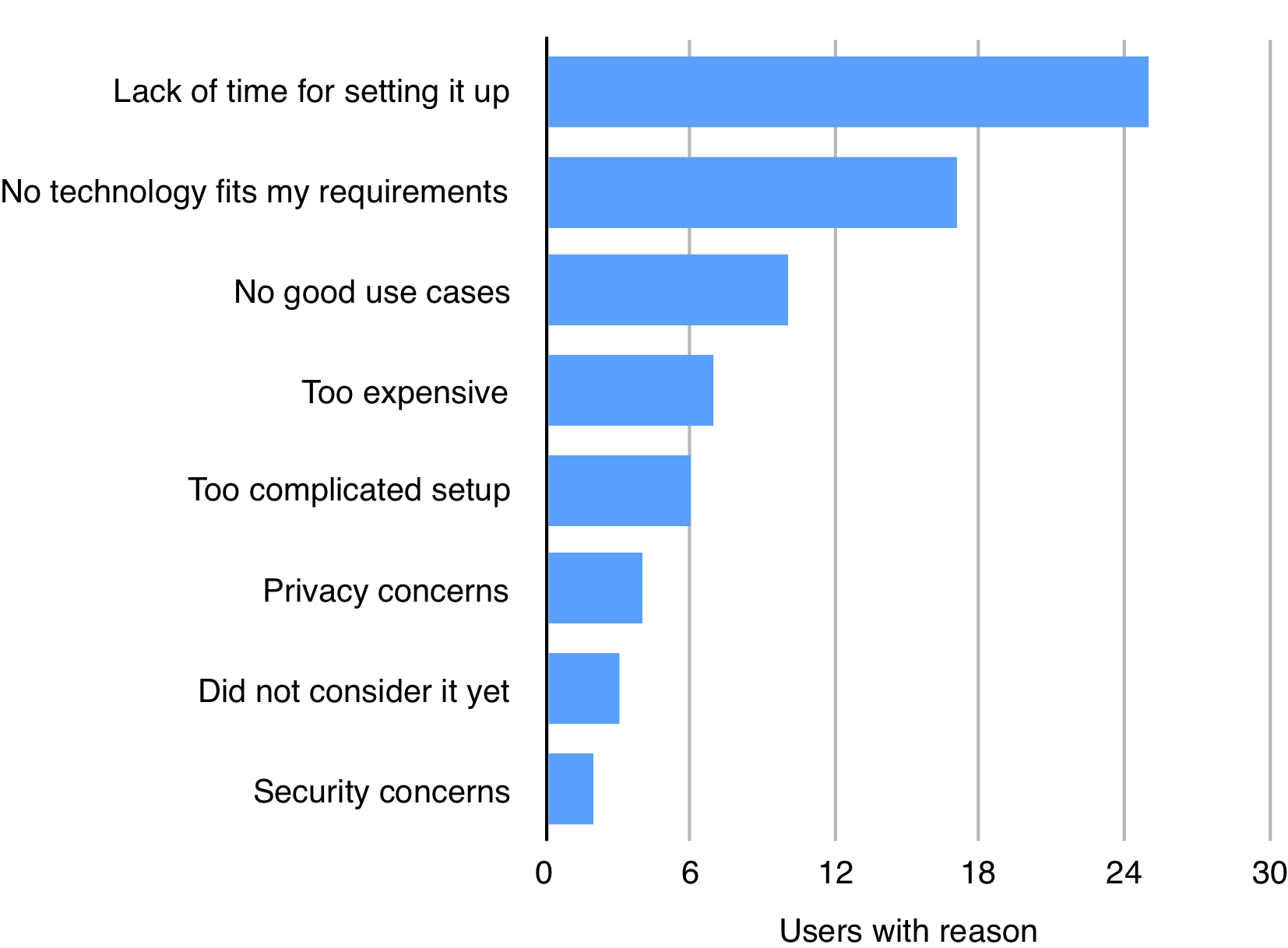 Most of those that did not set up presence detection yet, but plan to do so in the future, either stated a lack of time for setting it up or missing a system that covers their needs as the reason.
As part of the thesis I will explore and analyze the available options for presence detection we have today. Maybe there will be ways to improve on the commonly used technologies, or some lesser known method can be utilized to get rock-solid presence detection. I will keep in mind how the community rated the importance of these factors, so that the solution is hopefully applicable to as many people as possible in the end. And of course I will share my results! 😄